Djokovidelirum Hits Australia
Update … 10.00 AM EST – January 6
To assess the "danger" posed by Djokovic to the Australian people, it needs to be borne in mind that there are presently nearly 300,000 COVID-positive people (287,636 is the precise number) in Australia. A vast majority of these COVID-positive people are actually vaccinated. What risk does Djokovic, who probably isn't even positive, represent to Australia, except maybe … a political risk?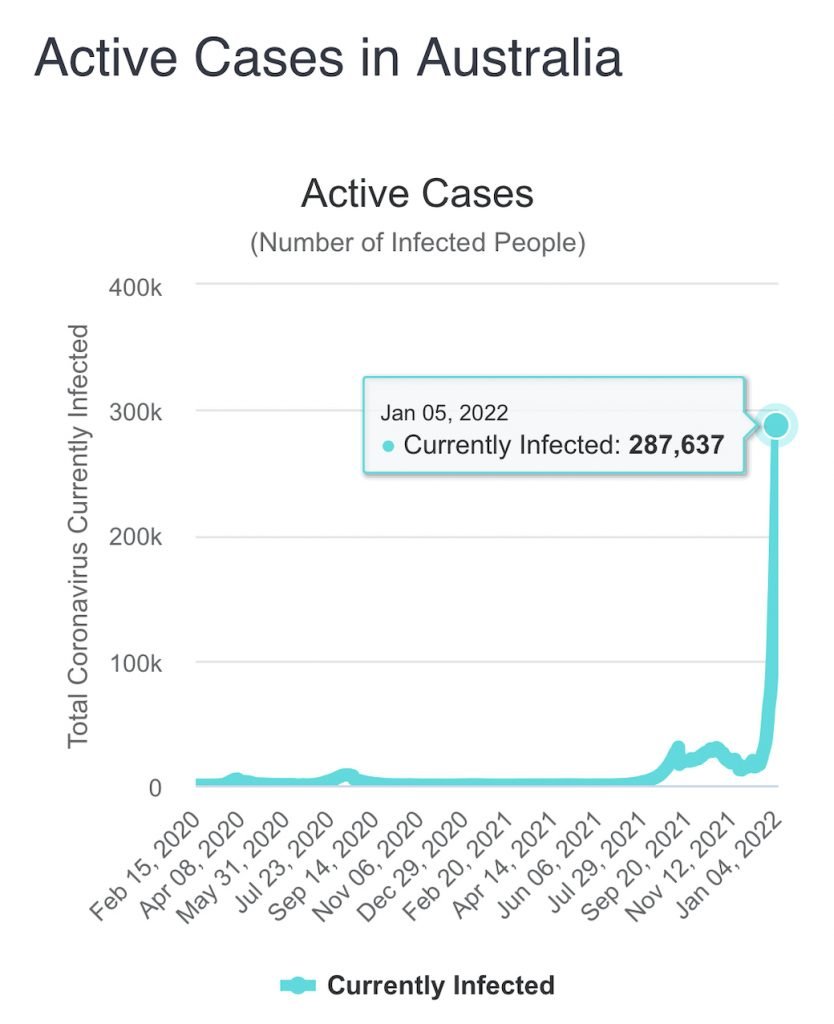 Update … 8:00 AM EST – January 6
It looks like the judge is not in a hurry. Djoko to be told his fate on Monday, according to this Sky News article. In the included video, he seems to be treated as the most dangerous naturally immune individual on the planet!
Meanwhile, even if the injections are totally known to be useless to reduce the spread of Omicron – which strives among the fully vaccinated people, Australia's Northern Territory is now embarking on extremely stringent lockdowns targeting the non-vaccinated! It's hard to believe how more incompetent governments can be!
Update … 8:30 PM EST
Now a big question is: with Omicron, that spreads like wildfire, especially in the fully vaccinated, how can the event realistically held? …
Update … 6:30 PM EST
Apparently, Djokovic has appealed the Australian authorities' decisions to deny him entry. He will spend the night in a governmental run hotel (not a concentration camp apparently …:) ….
Also noteworthy, the hashtag on Twitter #BoycottAustralianOpen
Update … 5:50 PM EST
Here is Australian mainstream media making a joke of Djokovic's father, and giving ample space to the prime minister Scott Morrison to his fallacious, medically false claim that Djokovic needs vaccination.
---
Today, #Djokovid is trending on Twitter. "You are a clown. An arrogant, irresponsible, ignorant clown. A perfect example of what sportsmanship is not." states one of those reacting to the exemption received by Novak Djokovic, allowing him to participate in the Australian open, despite not being jabbed. There are other reactions of that nature.
It has not been disclosed what was the reason that brought an independent committee to grant the exemption to the world's #1 tennis player, who seeks to defend his title.
But should all of this be so complicated? Not really. Djokovic already got Covid-19 in 2020. He recovered from the disease, and therefore did build natural immunity.
There is abundant scientific evidence that he is naturally immune to COVID-19, and that he does not pose a threat to anybody. This abundant scientific evidence is denied by Australia and many other countries, for reasons that seem to have nothing to do with science.
Actually, from a health viewpoint, Djokovic, being naturally immune, is a threat to absolutely nobody. And as pointed out by Alexander in his article:
"We should not force COVID vaccines on anyone when the evidence shows that naturally acquired immunity is equal to or more robust and superior to existing vaccines."
This means it's all zero-science, 100% propaganda that is plaguing this now compromised participation of Djokovic in the Australian Open and his ability to defend his title.
Even the prime minister of Australia weighed in. Novak Djokovic will be "on the next plane home" if he can't explain his vaccine exemption, warned prime minister Scott Morrisson. (who recently surrendered to Omicron)
At the time of writing this short piece, Djokovic had landed in Australia, but was held in a small room, guarded by police, at the airport, as the visa he had secured was not the right one, which may help getting him "on the next plane home."
This episode is another revelation of how prominent athletes such as Aaron Rodgers, who also resisted the pressure to take the high risk injection, can be scapegoated by politicians and the part of the population that (still) believes that the injections are protective and safe – two characteristics that we now know for sure are not true.
Australia, which followed very proudly, until recently, a "Zero Covid" policy, has now about 50,000 new cases per day!
In the State of Victoria, where Melbourne is located, there some 17,636 new cases acquired locally in the past 24 hours – which shows how ridiculous the focus on Djokovic, who is not even testing positive, is.
https://www.coronavirus.vic.gov.au/victorian-coronavirus-covid-19-data
Australia has pushed vaccinations as the only solution to Covid, repressing early treatment, preventing doctors using early treatment drugs.
Now, the whole policy is backfiring, as the injections prove not to prevent contagion and infections.
The authorities typically deny any safety issues with the injections, yet they are now starting to have to recognize that they are not that safe …
It's in this context that the scapegoating of Novak Djokovic needs to be seen.
The Australian authorities now resort to populism, belittling of minorities and scapegoating to justify the continuation of their failed policies.
Now, if Djokovic is out, will the other tennis players still participate in a tournament that won't have much meaning anyway?
Or will they demonstrate solidarity with Djokovic and withdraw their participation?
Let's hope something positive gets out of this.
---
See also: