National Institute of Health (NIH) Recommends Against Early Treatment for COVID-19
In a move, consistent with its previous positions, but going against a core principle of medicine that diseases need to be treated early, the National Institute of Health has issued guidelines recommending against any form of specific treatment for COVID-19 patients who are not hospitalized or are hospitalized but do not require supplemental oxygen.
https://www.covid19treatmentguidelines.nih.gov/therapeutic-management/
This means that medical doctors, throughout the United States, are told not to provide any form of antiviral or immunomodulatory drug in an outpatient setting or at the early stages of hospitalization.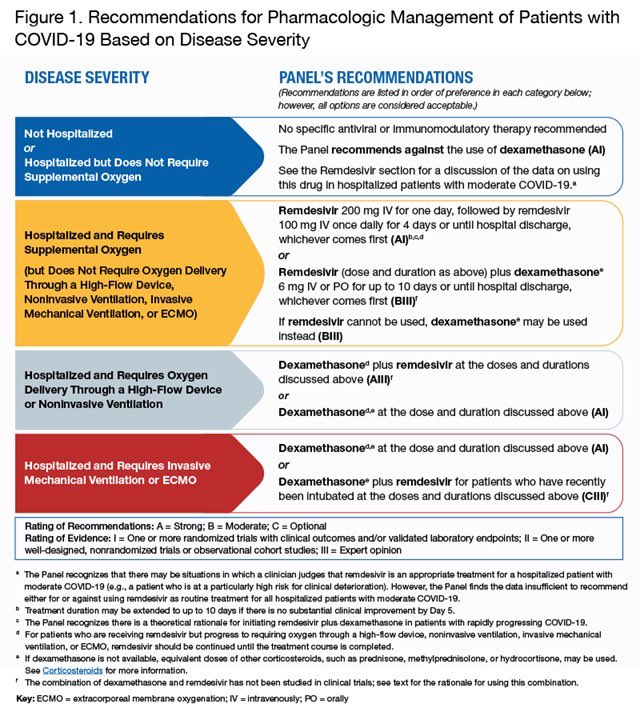 This is totally contrary to the recommendations of numerous doctors who treat COVID-19, early, to contain viral replication and help the patient to overcome the disease before needing to be transferred to hospital.
Remember, the study by Scholz et al, on the patients of the practice of Dr Vladimir Zelenko out of New York state, showed an 84% reduction in the need for hospitalization for treated patients, as well as a very low mortality.
https://www.preprints.org/manuscript/202007.0025/v1
Interestingly, the words hydroxychloroquine, zinc and azithromycin, don't appear a single time in these NIH guidelines.
The only drug that NIH says could be considered prior to hospitalization with supplemental oxygen is Remdesivir, which it actually recommends at all stages of the disease.
Yet, Remdesivir was found by the SOLIDARITY trial of the World Health Organization not to provide any benefit, neither in terms of reduced mortality nor in terms of reduced time of hospitalization.
https://www.medrxiv.org/content/10.1101/2020.10.15.20209817v1
"These Remdesivir, Hydroxychloroquine, Lopinavir and Interferon regimens appeared to have little or no effect on hospitalized COVID-19, as indicated by overall mortality, initiation of ventilation and duration of hospital stay."
The SOLIDARITY trial was large: 405 hospitals in 30 countries 11,266 adults were randomized, with 2750 allocated Remdesivir, 954 Hydroxychloroquine, 1411 Lopinavir, 651 Interferon plus Lopinavir, 1412 only Interferon, and 4088 no study drug.
Note that this is a conclusion for late / hospital level treatment, and not for early treatment – as recommended for hydroxychloroquine, and is not contrary to effectiveness of HCQ at an earlier stage of the disease.
This widespread recommendation of remdesivir, despite its inefficacy, is made even when the drug is known to have significant toxicity.
https://www.sciencedirect.com/science/article/pii/S1201971220305282
Remember that Dr Fauci, when promoting remdesivir at the White House, stressed the reduced recovery time of patients, while recognizing there was no significant effect on mortality. The SOLIDARITY trial did not corroborate a significant effect on hospital discharge time.
"Although ACTT-1, with placebo control, reported Remdesivir moderately reduced time to recovery, in the present study there were no material effects on ventilation initiation or time to discharge."
Actually, on April 29, the day Dr Fauci pushed Remdesivir at the White House, another study, from China, was published in The Lancet, and found no reduction in mortality and no reduction in hospitalization time (see above link).
Today, in the US, despite multiple restrictions, medical doctors are in theory allowed to prescribe hydroxychloroquine and other early treatment drugs off-label, but only few do so, because of the contrary guidance by the authorities (NIH, FDA, CDC).
As stressed numerous times in this blog, despite this huge opposition, early treatment offers the most effective approach to treat COVID-19.
The most outstanding example of early treatment can be found in California, where Dr Brian Tyson and his colleagues treated over 1700 COVID-19 patients with symptoms, on an outpatient basis, with ZERO mortality and just a short hospitalization – an outcome that is statistically impossible without substantial effectiveness of the therapy.
Learn about the experience of Dr Tyson by watching our interview with him.