Accidental Heroes in the Search for a Cure for COVID-19?
Some of you may remember Bernie Laplante, played by Dustin Hoffman in the 1992 movie Accidental Hero? He saved many lives, but no-one recognized him except, at the end of the movie, for the journalist played by Geena Davis.
Could McGill University and the University of Minnesota be the accidental heroes of the COVID-19 pandemic, for finally having found a cure that actually works?
That may come as unexpected for these researchers from McGill and their partners at the University of Minnesota, as they already concluded that they had not found such cure, in two published academic articles.
But something bizarre occurred with the research, and it has for effect to demonstrate that they actually found an effective cure for COVID-19.
What cure are we talking about? It's the infamous, controversial, "unproven" hydroxychloroquine drug.
The unproven drug is now proven, through this bizarre turn of events. Let's dive into it.
The Quest for a Scientific Proof
Since March, hydroxychloroquine-based early treatments for COVID-19 have been used with success, especially combined with azithromycin and zinc. This was confirmed in observational studies, showing a reduced need for hospitalization and a reduced mortality when the treatment is administered early.
But such observational research approach has been rejected by the medical establishment of number of countries, such as the US, Canada, France, UK and others, which insist that only randomized controlled trials can prove anything. This medical establishment disregards observational studies, even if such studies are in large part at the basis of medicine, as it is practiced today.
Accordingly, regulatory agencies in these countries, such as Health Canada, the National Institute of Health in the USA, and the Medicines and Healthcare Products Regulatory Agency in the UK, reject early treatment, even if case fatality rates from COVID-19 are typically higher in these countries, compared to countries having adopted early treatment.
Sometimes, the medical establishment does not require much to approve a drug. For example, in the US, remdesivir was approved on the basis of preliminary findings of a study that was just showing a reduced hospitalization time, but not even a reduced mortality. This occurred following a media briefing at the Oval Office, on April 29, the same day another study, this one peer-reviewed, randomized and published in The Lancet, showed the drug was ineffective both to reduce mortality and hospitalization duration.
Despite over 1,000 clinical trials seeking a cure for COVID-19, there has been little effort to test early hydroxychloroquine-based treatments for COVID-19. Many trials are in hospital settings, i.e. beyond the approx. 5 day window for early treatment to be effective.
In addition, from an ethical viewpoint, best practices for clinical trials prevent from using placebos when a treatment is known to work. The use of placebos, which is a key for randomized clinical trials, is incompatible with both the hippocratic oath and the internationally approved ethical principles for clinical trials, embedded in the Helsinki Declaration.
The study by McGill and the University of Minnesota was the first randomized controlled trial testing hydroxychloroquine in a non-hospital setting, and was therefore much awaited by the research community and decision makers from all over the world.
Hydroxychloroquine Initially Found Ineffective
McGill University, from Montreal, one of the epicentres of the pandemic in North America, with over 3,000 deaths, partnered with Dr. David Boulware and the University of Minnesota, another COVID-19 hotspot, for studies to find out if hydroxychloroquine could cure COVID-19.
One study was about "post-exposure prophylaxis," and the other about the use of hydroxychloroquine for non-hospitalized adults with early COVID-19.
The actual distinction between the two concepts was mostly academic, as both focus on "post exposure" i.e. on potentially infected individuals. Both studies relied on symptom self-reporting via the Internet and courier shipping of the medications, without any real medical examination and follow-up. There was little pcr testing done, especially in the post-exposure prophylaxis study.
Both studies are randomized controlled trials, where the medical doctors, who are supposed to care for the sick, offer placebos to a large proportion of them – here 50%.
This is the same methodological approach as with the "RECOVERY" trials by Oxford University in the UK, where over 3,000 people lost their lives, and where hospital mortality rate reached over 25%. There is considerable controversy with the Oxford trials, including for having given possibly toxic doses of hydroxychloroquine to patients, as we previously covered.
The McGill / Minnesota studies, which were focusing on non-hospitalized individuals, many of them healthcare workers, were published in academic journals, respectively the New England Journal of Medicine and the Annals of Internal Medicine. Both studies concluded on the ineffectiveness of hydroxychloroquine.
The first study concluded: "hydroxychloroquine did not prevent illness compatible with Covid-19 or confirmed infection," while the second stated: "Hydroxychloroquine did not substantially reduce symptom severity in outpatients with early, mild COVID-19."
https://www.nejm.org/doi/full/10.1056/NEJMoa2016638
https://www.acpjournals.org/doi/10.7326/M20-4207
Mainstream Media Jubilant
There were considerable media efforts to let the world know about the research. Actually, the media was informed even before the academic paper was published.
The narrative that hydroxychloroquine does not work is a popular one in most mainstream media, and the two studies provided them copious fodder.
Here are some media reports on the first – "post-exposure prophylaxis" study.
CNN: "On the heels of studies showing hydroxychloroquine doesn't help patients in the hospital with Covid-19, a new study — the first of its kind — shows the drug doesn't work to prevent infection with the virus, either. "
Washington Post: "Hydroxychloroquine, a drug promoted by Trump, failed to prevent healthy people from getting covid-19 in trial"
Global News Canada: "Hydroxychloroquine doesn't prevent COVID-19 in people exposed to the virus, study finds"
NY Times: "The first carefully controlled trial of hydroxychloroquine given to people exposed to the coronavirus did not show any benefit."
CNBC: "Hydroxychloroquine doesn't prevent coronavirus infection, study with more than 800 people finds"
Even a more specialized media, Kaiser Heath News, didn't see the pitfalls of the study: "Study Finds Malaria Drug Doesn't Prevent COVID-19 In Latest Knock Against Controversial Treatment"
Following the publication of the second study, the Washington Post reported that "Second University of Minnesota study shows no hydroxychloroquine benefit in COVID-19 fight."
"An anti-malaria drug that doctors hoped would work against COVID-19, and that President Donald Trump championed and said he took himself, has failed to show substantial benefit in a second University of Minnesota trial."
First Snag: the France Soir Newspaper
Since the beginning of the pandemic, France Soir has played an unusual role in the media, as instead of blindly repeating what researchers were saying, or following some kind of imposed narrative, they took an in depth look at the academic studies, with he help of an anonymous group of high level researchers, operating under the name Collectif Citoyen (Citizens Alliance).
France Soir, with the assistance of these researchers, redid the maths of the first Boulware study. The McGill researchers had only looked for statistical significance after 1 day, 2 days, 3 days or 4 days, and did not find any. But what about statistical significance after 1 or 2 days, or after 1, 2 or 3 days?
A quick analysis, on the basis on the published data, and not the raw data gathered by the researchers, found a 0.90% statistical significance when HCQ was taken within 2 days, 0.84% if taken within 3 days. It was close, yet the small size of the samples did not deliver the 0.95% threshold of statistical significance.
Let's remember here that hydroxychloroquine alone is known to be a sub-optimal treatment for COVID-19, as it is now well-known to work much better when combined with Zinc and an antibiotic such as Azithromycin. The researchers could easily have added zinc into their protocol, but failed to do so. Finding significant effects of hydroxychloroquine alone is much harder than if it had been administered in association with zinc and/or azithromycin.
It must also be noted that there were plenty of issues with that study. The level of adherence to the treatment was far from 100%, and there were important timing issues, as this was a study done remotely via the Internet, patients were asked to self-report symptoms, time was needed to process the demands, and then the medications and placebos were sent by courier, with study participants all over the US and Canada – all elements contributing to delay the administration of the drug.
France Soir published a quick statistical analysis on June 4, in an article questioning the publication in the New England Journal of Medicine and titled "The Devil is Really in the Detail, after The Lancet, we question The New England Journal of Medicine. "
http://www.francesoir.fr/societe-sante/le-diable-est-vraiment-dans-le-detail-apres-lancet-nous-remettons-en-cause-le-new
In a June 3 editorial in the New England Journal of Medicine, Myron S Cohen MD writes: "The results reported by Boulware et al. are more provocative than definitive, suggesting the potential prevention benefit(s) of hydroxychloroquine remain to be determined."
https://www.nejm.org/doi/full/10.1056/NEJMe2020388
Brazilian Expert Demonstrates Statistical Significance
And then came Marcio Watanabe, PhD and his article "Efficacy of Hydroxychloroquine as Prophylaxis for Covid-19." found on Cornell University arXiv.org e-print (non peer reviewed) site. The article was published on July 18 and last revised on July 21.
Marcio Watanabe is an adjunct professor of statistical sciences at the federal university of Fluminense in Brazil. He undertook a detailed statistical analysis of the June 3 article by Boulware et al, using what he considers a better methodology, and came up with very different conclusions.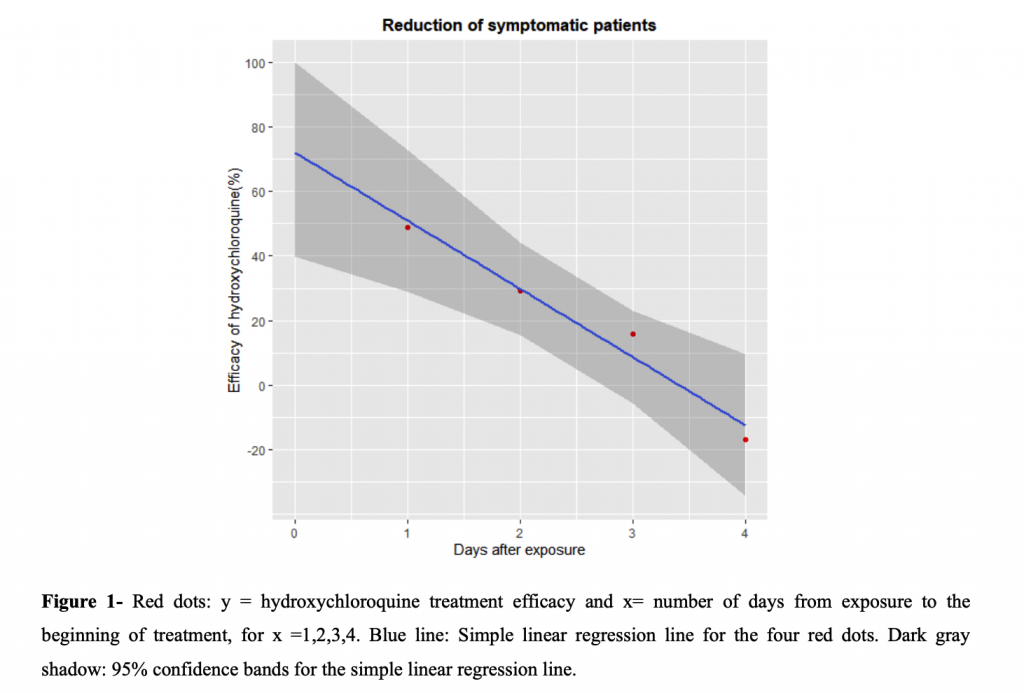 "We conclude their randomized, double-blind, placebo-controlled trial presents statistical evidence, at 99% confidence level, that the treatment of Covid-19 patients with hydroxychloroquine is effective in reducing the appearance of symptoms if used before or right after exposure to the virus."
"For 0 to 2 days after exposure to virus, the estimated relative reduction in symptomatic outcomes is 72% after 0 days, 48.9% after 1 day and 29.3% after 2 days."
"We conclude that, when applied as a prophylaxis, it can significantly reduce the relative proportion of symptomatic patients if used from 0 to 2 days after exposure to the virus (71.98% for 0 days, 48.86% for 1 day and 29.33% for 2 days)."
"Moreover, our results show that the elapsed time between the exposure to the virus and the beginning of treatment is vital to the effectiveness of the antiviral use."
"We expect the treatment will be more effective when applied to patients in the viral replication period, before viral load reaches its peak which occurs around 5 days after symptom onset."
The paper also discusses "some inaccuracies in the statistical analysis of Boulware et al."
https://arxiv.org/pdf/2007.09477.pdf
McGill, Minnesota University: Accidental Heroes?
What the statistical analysis by Marcio Watanabe indicates is that the "post-exposure prophylaxis" study data actually show the efficacy of hydroxychloroquine.
Even if they wrote the contrary, the McGill and University of Minnesota researchers accidentally have proven, through a randomized controlled trial, that hydroxychloroquine works.
Since the beginning of the pandemic, the world has been looking for effective treatments for COVID-19.
For sure, the Oxford professors Horby and Landray were the first to claim victory, but this was about a drug for late stage treatment – dexamethasone – with modest benefits, while early treatment is a much more effective and compelling therapeutic approach, as it contains the progression of the disease and considerably reduces the need for hospitalization.
The statistical orthodoxy principles adopted by the WHO and a number of countries in determining what is acceptable science brought us to the current situation where extremely few treatments have been recognized and put into use in countries such as the UK, France, Canada and others.
There was observational evidence, for example from IHU-Marseille and from the work of Dr Zelenko in the US, that hydroxychloroquine combined with azithromycin and/or zinc, when administered early, was lowering the need for hospitalization and reducing lethality. Yet that was disregarded.
https://www.ncbi.nlm.nih.gov/pmc/articles/PMC7315163/
https://www.preprints.org/manuscript/202007.0025/v1
But now, we have a randomized controlled trial showing that hydroxychloroquine is an effective early treatment for COVID-19, even if the published article in the June 3 New England Journal of Medicine says exactly the contrary.
The McGill University and University of Minnesota researchers are thereby accidental heroes of the pandemic! Thanks to the new statistical analysis by Marcio Watanabe, they can now be proud to have found a cure for COVID-19!
To be more precise, let's say that, thanks to Marcio Watanabe, they rediscovered a cure already found by the French at IHU Marseille, and Dr Zelenko in the US, through the lenses of the randomized controlled trial methodology.
But, to get back to our Accidental Hero movie, unlike Bernie Laplante, these McGill and Univ. of Minnesota researchers did not save any lives.
Actually, even if their research conveniently claims 0% mortality rate, hidden in the supplementary material lies the fact that they lost track of 69 participants of "unknown vital status," some of which may have died.
How could McGill, the University of Minnesota, become true heroes?
It would be to tell the world, through the same media (CNN, MSNBC, WSJ, WP, etc.), that they made a mistake in their June 3 announcement.
They should declare to the world that, contrary to what they initially concluded, early hydroxychloroquine-based treatments are effective, as proven by the data from their randomized controlled trial, with the statistical analysis performed by Marcio Watanabe.
In addition, they should make a correction in the New England Journal of Medicine, which would provide them with an additional, yet pretty unusual, academic publication.
It's High Time for Regulatory Authorities to Embrace Hydroxychloroquine-Based Early Therapies
Whatever these researchers do, it's high time for regulatory authorities which haven't done so yet, to embrace such early-treatments.
In Canada, the federal agency Health Canada should immediately lift all the restrictions on hydroxychloroquine in the country, stop its fear mongering against the medication, and instead embrace it.
The drug needs to be available in any pharmacy. Medical doctors must have the right to prescribe it for early treatment of COVID-19. Anyone contracting COVID-19 should have immediate access to the treatment, under proper medical supervision.
As stated by Yale Professor Harvey Risch, in a recent interview on Fox News, lifting restrictions to hydroxychloroquine would be a game changer and would save countless lives – 75,000 to 100,000 in the USA alone. Indeed, in the US, while permitted for off-label use, there are restrictions on hydroxychloroquine in many States.
Other countries where there are various levels of restrictions on early treatments should act on this accidental discovery of a cure for COVID-19, including the UK, Australia, New Zealand, Germany, France, Italy, Spain, The Netherlands, Belgium, etc.
In France, several observers estimate that 80% of the deaths could have been avoided if early treatment had been implemented country-wide, and not only in Marseille.
Such 80% reduction in mortality also means reducing by 80% the mortality associated to future infections, including in nursing homes, as long as early treatment is implemented.
While the pandemic is receding in many countries, there are still numerous lives to be saved with early treatment protocols. There is no time to waste.
Last June, Dr Boulware asserted about hydroxychloroquine that it's a safe medicine, but it just didn't work. He was right about the safety, but wrong about the lack of effectiveness.
Now it's time to let the world know that hydroxychloroquine is a safe and effective drug for COVID-19.
———
See our previous analysis: