COVID-19 in Nursing Homes: a Way Forward to End the Tragedy
This article presents a concrete way forward for avoiding or at the very least containing COVID-19 outbreaks in nursing homes, through prophylaxis and early treatment. It looks at the situation in the Canadian province of Quebec, but is applicable elsewhere. This is not a theoretical article, as it presents a readily available solution, that has actually already been implemented in France, in one nursing home, with success.
The vast majority of deaths in countries such as Canada occurred in nursing homes, where there is a high concentration of people at high risk of COVID-19. There are usually non-therapeutic measures in place, to attempt limiting infections, but they have already proven to be largely ineffective in containing SARS-CoV-2, an airborne virus.
It's critical to target efforts towards prophylaxis and early therapies in those institutions and to do this immediately. Yes there may be vaccination campaigns in the coming months, yet in the meantime, outbreaks are very real and spreading, with ensuing acute diseases and deaths. Prophylaxis and early treatment options already exist. They are safe, cheap and readily available. What is needed is to implement them now, to contain these outbreaks, provide immediate therapies to infected residents and thereby reduce disease and mortality.
---
See also:
---
During the first phase of COVID-19 in the province of Quebec, the majority of deaths occurred in private and public nursing homes.
Of the 7,097 deaths attributed to COVID-19, as of December 2, 2020, 4,493 took place in such settings.
This represents 63% of deaths attributed to COVID-19 in the province.
https://www.inspq.qc.ca/covid-19/donnees
As in other jurisdictions, steps have been taken in anticipation of a second wave, in an attempt to reduce new outbreaks, through measures such as bans on visits and reduced care to reduce contact with patients. .
In the province of Quebec, this reduction in care has resulted in measures such as the suspension of "non-essential" medicines and supplements.
A particularly misguided decision was to recommend stopping the supply of vitamin D, seen as non-essential, despite the fact that it is one of the most important molecules for fighting COVID-19.
http://www.ruis.umontreal.ca/sites/default/files/Comites/Vieillssement/Guide_COVID19-Particularites_geriatriques_CHUM_20200510.pdf
Are the measures by the provincial authorities effective? Of course not. There are numerous COVID-19 outbreaks in nursing homes in Québec, like in the rest of Canada and in other countries, with obvious deadly consequences.
As of December 2, 2020, there are 1381 residents in private nursing homes, and 673 residents in public ones, for a total of 2054 residents, in the province, who are currently infected, and therefore at very high risk of serious illness and death, according to official figures.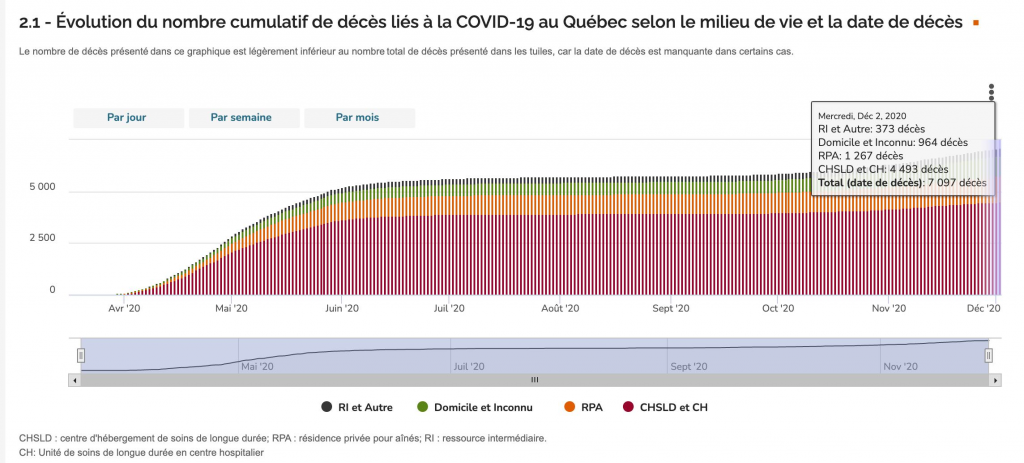 https://cdn-contenu.quebec.ca/cdn-contenu/sante/documents/Problemes_de_sante/covid-19/etat_situation_rpa.pdf
https://cdn-contenu.quebec.ca/cdn-contenu/sante/documents/Problemes_de_sante/covid-19/etat_situation_chsld.pdf
The nursing home currently the most affected is Villa Saint-Dominique, in Saguenay Lac Saint Jean, with a staggering 100% of residents infected.
What is extremely important to be aware of, and is totally unacceptable, is that …
While Denied to Infected Residents, Therapeutic Solutions However Exist.
Yes, while denied to infected residents, therapeutic solutions, that are safe, simple and extremely cheap, exist and could immediately be implemented.
The one that is probably the easiest to implement is to prescribe Ivermectin-based treatments in institutions affected by these COVID-19 outbreaks, for both residents and staff.
Ivermectin is a generic drug authorized in Canada as an anti-parasitic agent.
https://pdf.hres.ca/dpd_pm/00047396.PDF
https://pdf.hres.ca/dpd_pm/00047237.PDF
Ivermectin is a drug that is extremely safe and has been taken billions of times.
Ivermectin is a drug widely used around the world and very safe, to the point where the World Health Organization (WHO) considers that "ivermectin is safe and can be used on a wide scale."

https://www.who.int/apoc/cdti/ivermectin/en/
In 2015, professors William C. Campbell and Satoshi Ōmura received the Nobel Prize for their discovery of ivermectin – sometimes called the wonder drug.
https://www.nobelprize.org/prizes/medicine/2015/press-release/
A recent study by Bernigaud et al, published in France, showed how ivermectin was used in a nursing home, with particularly old residents, with the result, in all likelihood, of having avoided mortality.
In this actual experiment, Ivermectin was prescribed to all residents as well as to all the staff of the nursing home. They were actually treated, by chance, because of a scabies outbreak.
While there were widespread casualties in nearby institutions, no death or even severe case of COVID-19 occurred among those residents and staff.
Here is our article on this case of serendipity – an example of an unplanned discovery, that occurred by chance.
Ivermectin could easily be used for prophylaxis and early treatment in nursing homes where COVID-19 is rife, benefiting residents and staff alike.
Additional agents such as Vitamin D3 and Zinc can usefully be added to the prophylaxis regimen.
A more complete treatment protocol developed by eminent Professor Thomas Borody of Australia, combining ivermectin, doxycycline (an antibiotic) and zinc, can be administered to symptomatic residents.
Additional drugs can be included if needed, in accordance with the early treatment algorithm developed by Dr Peter McCullough et al.
Dosage is according to body weight. For example, according to Professor Marik (see at min 40), a standard dosage for this 12 mg Ivermectin for a 70 Kg (155 lbs person, to be taken on day 1 and day 3.
Experts such as Professor Thomas Borody (Australia), Dr Robin Armstrong (Texas) and Dr George Fareed (California) and many others can be contacted to clarify the details of the treatment protocol.
These therapeutic measures need to be implemented in a coherent framework of testing, early detection (symptoms, oxymetry), isolation of infected residents and protection of other residents and personnel, as we discuss in detail in our webinar about covid-19 in nursing homes.
The steps to be taken in a nursing home, with pre-exposure prophylaxis, post-exposure prophylaxis and early treatment are summarized here.
There is not a moment to waste, especially with bureaucratic ineffective decision making or randomized controlled studies and the like, because it is very clear today that ivermectin is an effective agent for COVID-19, including prophylaxis and early treatment.
The risk / benefit balance of such an approach is extremely beneficial.
There is essentially no risk in trying and the cost is minimal (a few tens of dollars at most per person treated).
There are other prophylactic and early treatment approaches for COVID-19, as discussed in our recent webinar (see reference below), but this is probably the simplest solution and, what's more, it is immediately usable.
This is the approach that jurisdictions such as the Province of Quebec should immediately implement to reduce the progression of the disease to severe forms and ultimately reduce the death rate in these institutions.
At the bare minimum, residents and / or their families should be able to request this type of treatment from the attending physician when there is an outbreak of COVID-19 in the nursing home.
The attending physician should be free to prescribe this type of treatment, without government hindrance, from authorities, medical or pharmacy boards.
While this article focuses on nursing homes in Quebec, the solution is applicable elsewhere, in any other jurisdiction, as well as to the benefit of people at risk who are not living in such institutions.
---
See also: