Dr Fauci Announces Remdesivir to Become Standard of Care for COVID-19 while Chinese Study Finds it Ineffective; Other Research also Ignored
This is really a special remdesivir day!
We already covered today the just published randomized Chinese study in The Lancet, with 237 patients, according to which "remdesivir was not associated with statistically significant clinical benefits."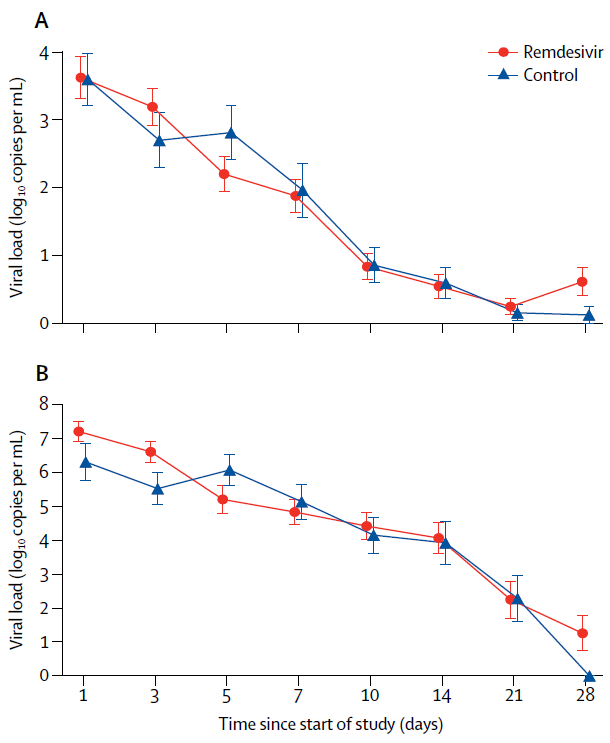 The Chinese study also shows adverse effects in 66% of treated patients. The Chinese study notes that, "although not statistically significant, patients receiving remdesivir had a numerically faster time to clinical improvement than those receiving placebo."
This looked like a very bad day for remdesivir. But here came the announcement by Dr Anthony Fauci, made at a media conference at the White House with President Trump being present.
"The data shows that remdesivir has a clear-cut significant positive effect in diminishing the time to recover… It's highly significant if you look at the time to recovery being shorter in the remdesivir arm it was 11 days compared to 15 days… We think looking forward this is very optimistic…" said Dr Fauci.
Dr Anthony Fauci went a step further, asserting that remdesivir would now become the Standard of Care, i.e. all patients, at least in clinical trials, would get that drug by default.
"Whenever you have clear-cut evidence that a drug works, you have an ethical obligation to immediately let the people who are in the placebo group know, so that they can have access. And all of the other trials that are taking place now have a new standard of care."
Update April 30 9 am EST: Here are two first reactions, on Twitter, of Professor Didier Raoult, who points to the fact that the Fauci endorsed study does not show reduced mortality, similarly as the Chinese study, but also to a change of goal in the Fauci study – with reduced death being removed as primary goal, and replaced by reduced time to recovery.
Absent from the speech, totally ignored by Dr Anthony Fauci, was hydroxychloroquine and all the research already done about it.
A study by Professor Raoult's team in Marseille, combining hydroxychloroquine with azithromycin for the treatment of COVID-19, found that virus cultures from patient respiratory samples were negative in 97.5% patients at Day5.
The treatment "allowed patients to rapidly be discharged from highly contagious wards with a mean length of stay of five days."
Dr Anthony Fauci did not refer either to the landmark study by Professor Raoult and his team, on 1061 patients, that showed that:
"a good clinical outcome and virological cure was obtained in 973 patients within 10 days (91.7%)."
For a more recent update on the considerable work done in Marseille about hydroxychloroquine, and to learn about Professor Raoult's take on the future of the pandemic, refer to this article.
Another study not mentioned by Dr Anthony Fauci is the one from Brazil, showing a sharp decline in the need for hospitalization thanks to early treatment with a combination of hydoxychloroquine, azithromycin and zinc.
This is obviously hugely controversial, and it's not the end of the story.
Fauci's speech may well go into the history books as a prime example of questionable scientific practice.
Or would the US decide on a drug, hundreds times more expensive than hydroxychloroquine, proven to be ineffective, to become the "standard of care" for patients suffering from the deadly COVID-19 disease?
Note that, since publishing this article, the US Food and Drugs Administration has provided emergency use authorization, that allows "for remdesivir to be distributed in the U.S. and administered intravenously by health care providers, as appropriate, to treat suspected or laboratory-confirmed COVID-19 in adults and children hospitalized with severe disease."
We also provide an analysis of this development in this article.
See protocol:
https://clinicaltrials.gov/ct2/show/NCT04280705
Watch the video.
Here is the transcript of Dr Fauci's speech at White House (media release is below).
It's quite good news. So a trial that the National Institute of Allergy and Infectious Diseases which is the Institute I direct sponsored a study called the Adaptive Co Virus Disease Treatment Trial – ACCT 1 – was started in February 21st of this year and it was a randomized placebo-controlled trial comparing the Gilead drug remdesivir with a placebo.
It was highly powered with about a thousand ninety plus individuals so it is the first truly high-powered randomized placebo-controlled trial. It was an international trial involving multiple sites not only in the United States but in various countries throughout the world including Germany Denmark Spain Greece the UK etc
The primary endpoint was the time to recovery, namely the ability to be discharged. When you have a study like this, we have a data and safety monitoring board which looks at the data and they are independent so there's no prejudice on the part of the investigators because they're doing the trial or the drug is from a certain company.
The data and safety monitoring board on Monday afternoon contacted me on April 27th, first on Friday the week before and then again on April 27th and notified the study team namely the multiple investigators who are doing the study throughout the world that the data shows that remdesivir has a clear-cut significant positive effect in diminishing the time to recover.
This is really quite important for a number of reasons and I'll give you the data. It's highly significant if you look at the time to recovery being shorter in the remdesivir arm it was 11 days compared to 15 days. That's a p-value, for the scientists who are listening of 0.001. So that's something that although a 31% improvement doesn't seem like a knock out one hundred percent, it is a very important proof of concept because what it is proven is that a drug can block this virus.
And I'll give you an example in a moment. We think looking forward this is very optimistic. The mortality rate trended towards being better, in the sense of less deaths in the remdesivir group: eight percent versus eleven percent in the placebo group. It has not yet reached statistical significance but the data needs to be further analyzed.
The reason why we're making the announcement now is something that I believe people don't fully appreciate. Whenever you have clear-cut evidence that a drug works, you have an ethical obligation to immediately let the people who are in the placebo group know, so that they can have access. And all of the other trials that are taking place now have a new standard of care.
So we would have normally waited several days until the data gets further. The dot the I and cross the T. But the data are not going to change. Some of the numbers may change a little but the but the conclusion will not change.
When I was looking at this data with our team the other night, it was reminiscent of thirty four years ago. In 1986, when we were struggling for drugs for HIV, and we had nothing. And there was a lot of anecdotal reports about things that maybe did work maybe not.
People were taking different kinds of drugs and we did the first randomized placebo-controlled trial with AZT, which turned out to give an effect that was modest but that was not the end game. Because building on that every year after we did better and better. We had better drugs of the same type and we had drugs against different targets.
This drug happens to be blocking a enzyme that the virus uses and that's an RNA polymerase, but there are a lot of other enzymes that the virus uses that are now going to be targets for this. This will be the standard of care.
And in fact, when we look at the other trials, we're doing to do a trial with another antiviral. Actually it isn't an antiviral. It is an anti-inflammatory, a monoclonal antibody. We're gonna now compare the combination of remdesivir with this, so as drugs come in, we're gonna see if we could add on that.
So bottom line, you're going to be hearing more details about this. This will be submitted to a peer-reviewed journal and will be peer reviewed appropriately.
But we think it's really opening the door to the fact that we now have the capability of treating. And I can guarantee you, as more people and more companies, more investigators getting involved, it's gonna get better and better.
---
NIH Clinical Trial Shows Remdesivir Accelerates Recovery from Advanced COVID-19
April 29, 2020
Hospitalized patients with advanced COVID-19 and lung involvement who received remdesivir recovered faster than similar patients who received placebo, according to a preliminary data analysis from a randomized, controlled trial involving 1063 patients, which began on February 21. The trial (known as the Adaptive COVID-19 Treatment Trial, or ACTT), sponsored by the National Institute of Allergy and Infectious Diseases (NIAID), part of the National Institutes of Health, is the first clinical trial launched in the United States to evaluate an experimental treatment for COVID-19.
An independent data and safety monitoring board (DSMB) overseeing the trial met on April 27 to review data and shared their interim analysis with the study team. Based upon their review of the data, they noted that remdesivir was better than placebo from the perspective of the primary endpoint, time to recovery, a metric often used in influenza trials. Recovery in this study was defined as being well enough for hospital discharge or returning to normal activity level.
Preliminary results indicate that patients who received remdesivir had a 31% faster time to recovery than those who received placebo (p<0.001). Specifically, the median time to recovery was 11 days for patients treated with remdesivir compared with 15 days for those who received placebo. Results also suggested a survival benefit, with a mortality rate of 8.0% for the group receiving remdesivir versus 11.6% for the placebo group (p=0.059).
More detailed information about the trial results, including more comprehensive data, will be available in a forthcoming report. As part of the U.S. Food and Drug Administration's commitment to expediting the development and availability of potential COVID-19 treatments, the agency has been engaged in sustained and ongoing discussions with Gilead Sciences regarding making remdesivir available to patients as quickly as possible, as appropriate. The trial closed to new enrollments on April 19. NIAID will also provide an update on the plans for the ACTT trial moving forward. This trial was an adaptive trial designed to incorporate additional investigative treatments.
The first trial participant in the ACTT trial was an American who was repatriated after being quarantined on the Diamond Princess cruise ship that docked in Yokohama, Japan, and volunteered to participate in the study at the first study site, the University of Nebraska Medical Center/Nebraska Medicine, in February 2020. A total of 68 sites ultimately joined the study—47 in the United States and 21 in countries in Europe and Asia.
Remdesivir, developed by Gilead Sciences Inc., is an investigational broad-spectrum antiviral treatment administered via daily infusion for 10 days. It has shown promise in animal models for treating SARS-CoV-2 (the virus that causes COVID-19) infection and has been examined in various clinical trials.
Contact
To schedule interviews, contact
NIAID Office of Communications
(301) 402-1663NIAIDNews@niaid.nih.gov