Effective Policy Making for Responding to COVID-19
In this article, we are looking at 4 particular public policy aspects which are noteworthy in the response of the Dominican Republic to the pandemic: 1) Outpatient Therapeutic Care for COVID-19 is a Reality; 2) Minister of Health Supports Outpatient Treatment; 3) No Excessive PCR Testing; 4) Reasonably Open Discussion in the Media. You can skip directly to those sections if you prefer. The first two sections presents remarks about the principles of sound public policy analysis, which are often ignored during this pandemic; as well as introductory remarks about the Dominican Republic, to provide background about the country.
---
This is the third part of an imaginary trip for Canadian politicians, for them to learn about how to effectively respond to the pandemic. In the first part, we looked at how prophylaxis was now known to be effective to prevent the disease with high risk professionals, in this case health care workers. We also looked at how early treatment can be administered to very old people, in nursing homes, to avoid mortality.
Second part was about contrasting excellence in early outpatient treatment for COVID-19, implemented in the medical practices of Dr Brian Tyson and Dr George Fareed in California, with the Canadian denial of such outpatient treatment, otherwise known as therapeutic nihilism. As for most diseases, early treatment should be the norm for COVID-19, but it's not the case in most countries, including Canada, where early therapies have been mostly prohibited by the authorities. This nihilism leads to relying on hospital level treatment only, which comes at an already dangerous stage of the disease, leading to substantial mortality, at a ridiculously high cost.
This article's third part is about policy, and more precisely about effective policy making. What would be a more effective therapeutic response to COVID-19? While the first two parts brought us to Argentina, Colombia and California, this one brings us to the Dominican Republic, where some components of the response to COVID-19 are particularly noteworthy, despite it's a relatively poor country, with numerous constraints when it comes to responding to this crisis.
Remarks about Policy Making
As the present article will be read by people with a variety of backgrounds, it's important to explain some principles of public policy analysis. The article by Walker (2020), titled "Policy Analysis: A Systematic Approach to Supporting Policymaking in the Public Sector," provides a good introduction. It "describes a systematic process for examining complex public policy choices that has been developed and refined over the past 50 years and is often called policy analysis. Its purpose is to assist policymakers in choosing preferred courses of action by clarifying the problem, outlining the alternative solutions and displaying tradeoffs among their consequences."
As outlined in the figure below, two sets of external forces act on the system: external forces outside the control of the actors, and policy changes, which are in the control of these actors. In our particular situation with pandemic-19, the external force outside our control is is the emergence of COVID-19. On the other hand, policies are presented as "the set of forces within the control of the actors in the policy domain that affect the structure and performance of the system. Loosely speaking, a policy is a set of actions taken by a government to control the system, to help solve problems within it or caused by it, or to help obtain benefits from it."
Critical in this framework is the Policy Making Process. The figure mentions stakeholders, involved in setting goals, objectives, preferences, which then are then translated into actual policies by policymakers, and these policies will, through their implementation, impact what Walker calls the "system domain for policies" which in turn impacts the outcomes, which then feeds information to stakeholders and policy makers for corrections into the policy. As outlined in the second figure, below, a key is for policy alternatives to be analyzed and compared, prior to their selection for implementation.
This is all common sense you may say. But it's still important to mention it, because there has been a major policy failure by most governmental authorities from the beginning of this pandemic. The policy failure has been to completely neglect a key policy alternative called early outpatient treatment, having the ability to considerably reduce both hospitalizations and deaths, and make COVID-19 a much less damaging disease, from a health, social and economic angle.
This outpatient treatment policy alternative has been more than neglected. It has been actively suppressed by the authorities and complicit media outlets, especially those part of the so called "trusted news initiative." Moreover, the stakeholder component of the policy making process has been largely suppressed. Voices deviating from the mantra decreed by the authorities have been ignored, not because of their lack of competence, but because they were not aligned with the policy making process, typically controlled by a very small number of people, which had already decided on what they would do very early on in the pandemic, when knowledge about COVID-19 was actually poor.
So, in most countries, there was a gigantic failure in public policy, with devastating consequences in terms of lost lives and with considerable long term economic and social damage. Yet, there are some countries that did things differently, and one of them is the Dominican Republic.
https://www.researchgate.net/publication/246850821_Policy_Analysis_A_Systematic_Approach_to_Supporting_Policymaking_in_the_Public_Sector
Remarks about the Dominican Republic
The Dominican Republic is a Caribbean country of 10.9 million inhabitants. With a per capita growth national income of US$8,080, it's considered an upper middle-income developing country. Life expectancy is 73.9 years. By contrast, the US and Canada have respectively per capita growth national incomes of US$46,370 and US$65,850. Life expectancies in Canada and USA are respectively 81.9 and 78.5 years.
Despite a pretty high life expectancy, the population of the Dominican Republic is much younger than in Canada and the USA. In 2019, 7.3% of the population was 65 or older in the Dominican Republic, versus 16.2% in the US and 17.6% in Canada.
https://data.worldbank.org/
https://ourworldindata.org/age-structure
As we know that mortality from C19 is exponentially growing with age, it's expected that mortality from the disease to be be lower in the Dominican Republic, despite the much lower per capita income and limited resources for medical care.
An important caveat is warranted here. The large mortality from COVID-19 at higher ages is not ineluctable, as early outpatient therapies, and prophylaxis, through medications such as Ivermectin, can substantially reduce mortality.
https://www.bmj.com/content/370/bmj.m3259
To this day, per capita death from C19 in the Dominican Republic has been 248 per million inhabitants, which can be compared to 533 and 1,379 per million inhabitants respectively in Canada and the USA. So it's about half of Canada's per capita mortality, and about a fifth of USA's mortality from the disease.
An interesting contrast was done by independent analyst Juan Chamie, based in Cambridge, Massachusetts. The contrast is between the trends in the Dominican Republic and those in Israel, two countries of similar populations, both with warm climates. Of course, Israel is a much richer country, with a per capita income about five times higher, which would suggest access to much better health care and therefore lower mortality. His analysis shows the very contrary.
For certain, compared to countries such as the USA, Canada and Israel, the Dominican Republic is doing better, thanks probably in part to its younger population. But other factors are at play, as several aspects of the country's response to C19 are truly noteworthy, and those are analyzed here.
I. Outpatient Therapeutic Care for COVID-19 is a Reality
The major difference between the response to COVID-19 in the Dominican Republic, as compared to countries such as Canada, the UK, France, Germany and (too) many others, is that there are opportunities to receive treatment at the first symptoms, at the beginning of the disease, well before an hospitalization is needed.
It remains unfortunately largely misunderstood that the first few days after the first symptoms is the critical time to get treatment for the disease. A pioneer for early outpatient treatment in the Dominican Republic is Dr. José Natalio Redondo, who operates a network of private clinics. Dr Redondo is outspoken about early treatment and regularly appears in the media. He also provides updates on his own Facebook page. He insists on social distancing, masks and hand washing, but most of all, he asks people to rush to a clinic at the first symptoms of the disease.
Dr Redondo's network of clinics has acquired vast experience with COVID-19 patients, having now treated over 5000 of them. He insists one needs to seek a diagnosis for COVID-19, in a clinic, and not a test, which may unnecessarily delay the treatment.
Dr Redondo is of course very familiar with the particulars of the situation in the Dominican Republic, where often 5 to 7 people may share a relatively small accommodation, and where isolation for COVID-19 is highly challenging. It's why, in many cases, the approach he adopts is to treat the whole family, at least those at risk in the family, as contagion must then be assumed to have already occurred.
A retrospective observational study by Dr Morgenstern, Infectious Diseases-Internist, Advisor in infectiology at the Medical Center Punta Cana, was posted as a pre-print on November 3 2020 and describes the experience of Dr Redondo and his team in treating COVID-19 patients, from May 1st to August 10th, 2020.
Out of 3,099 patients who were diagnosed with a definitive or highly probable diagnosis of infection due to COVID-19, 2,706 (87.3%) were discharged for outpatient treatment, all with mild severity of the infection. In 2,688 (99.33%) with outpatient treatment, the disease did not progress to warrant further hospitalization and there were no deaths. There were 18 hospitalizations needed in this group of outpatients and one death occurred. Among the 411 patients who presented too late for outpatient treatment, 37 died, including 34 in the ICU.
For outpatients, the typical treatment was Ivermectin at 0.4mg / kg, orally (PO) in a single dose in the ER and Azithromycin 500mg PO per day for 5 days, with follow-up of the outpatients.
Unfortunately, the paper does not provide details about the age distribution for outpatients, but notes that the average age of the patients hospitalized in rooms of the clinic Covid-19 isolation areas was 52 years; while in ICU patients it was 58 years.
Regarding side effects, the study notes: "No severe side effects were observed with the administration of Ivermectin. The only effects reported by some patients were mild nausea, heartburn or mild diarrhea, which in no case merited the suspension of treatment. No fatal or severe arrhythmias associated with the use of Azithromycin were observed."
Regarding diagnosis, the study findings "reinforce the claim that the diagnosis of this disease cannot be exclusive to the COVID-19 rt-PCR test. The clinic, laboratory and imaging (especially pulmonary CT scan) are essential to make the diagnosis."
https://www.medrxiv.org/content/10.1101/2020.10.29.20222505v1.full.pdf
There are other medical practices in the Dominican Republic offering Ivermectin-based outpatient treatment for COVID-19, yet this is not a generalized practice in the country.
It's important to note is that the medications used by Dr Redondo and colleagues are generic drugs, that are available in pharmacies – which is also a stark contrast with what happened in most countries where, often, these medications are prohibited or severely repressed by the regulatory authorities for COVID-19 outpatient treatment.
Interestingly, at least one pharmacy (see photo) has incepted a drive-through system to minimize contacts with infected people coming to purchase their medications following their doctor's visit.
See also:
II. Minister of Health Supports Outpatient Treatment
The official position regarding Ivermectin in the Dominican Republic is ambiguous. While the official health agency actually recommends against it, the minister of health, Dr Plutarco Arias, who is a medical doctor specialized in pneumology, trained in Spain, actually supports off-label use of the drug, when prescribed by a professional.
Having as minister of health a medical doctor specialized in pneumology is clearly an asset for the country. Canada's minister of health has a degree in public administration, Québec's minister of health has a degree in accounting, Ontario's minister of health is a lawyer, the former US secretary of health in the US, Alex Azar, was an economist, lawyer (and former pharma executive), while the new one, Xavier Becerra, is a lawyer, UK's health secretary is an economist, and the list goes on.
There are unfortunately exceptions, showing that having an MD as minister of health, is not always better: France's health minister, Olivier Véran, is an MD specialized in neurology, yet he vehemently denies early outpatient treatment to the French population, and went to the point of prohibiting GPs to even prescribe azithromycin for COVID-19.
See the CV of Dr Plutarco Arias at this link.
https://www.msp.gob.do/web/wp-content/uploads/2020/08/Curriculum-Dr.-Plutarco-Arias.pdf
These January 12 tweets by Minister Plutarco Arias, translated here into English, summarize his position regarding the early treatment of the disease:
"Despite positive results obtained in the DR with Ivermectin, in patients infected with the virus, the efficacy of this and other drugs as a treatment against Covid-19 continues to be evaluated scientifically at the national and international levels."
"Public Health does not recommend that Ivermectin be distributed massively, nor that citizens self-medicate and make use of medicines that are not prescribed by their doctor."
"It is the medical professionals who, at their discretion, should recommend the use of any medicine to their patients."
Actually, interestingly, Dr Plutarco Arias, who himself has recovered from COVID-19, does prescribe treatment protocols including Ivermectin, as can be seen from the picture of this prescription.
The message is therefore reasonably clear to general practitioners in the Dominican Republic. Off-label use of Ivermectin is tolerated by the authorities.
The Dominican Republic is, however, not devoid of debate about the drug. In the media, there are positions in favor and positions against it. There are medical doctors who refuse to prescribe it. It's unclear what kind of treatment is offered at the hospital level.
For sure, there are people in the Dominican Republic who develop the disease and don't get early treatment. Some die. There is still much room for improvement.
Note that, like any other country, the Dominican Republic needs to balance restrictive measures regarding C19 with the economic situation, which is very harmed by the pandemic, especially because of the high reliance on tourism.
As we previously reported, countries such as Canada have put very stringent restrictions on international travel from countries such as the Dominican Republic, thereby considerably reducing tourism in the country.
III. No Excessive PCR Testing
Since early in the pandemic, the message in most countries has been testing testing testing, with high reliance on PCR testing, which is now mostly used not as a diagnostic test but for tracing purposes, requiring people, even asymptomatic ones, to self-isolate.
As we previously analyzed, there are considerable issues with those tests. Post-infection, the proportion of false negatives is substantial, typically higher than 50%. And when implemented on a large scale, the number of false positives, which can range from 0.4 to 4%, becomes also considerable.
https://www.acpjournals.org/doi/10.7326/M20-1495
https://www.icd10monitor.com/false-positives-in-pcr-tests-for-covid-19
Let's give two examples. First, imagine a classroom with 40 students. If all students are tested, it's very likely there will be at least one false positive. This may bring a decision to require all students to self-isolate for 10 or 14 days, even if the decision may rely on a false positive test.
A second example is a plane of say 300 passengers. With a false positive rate of 2%, this means that 6 individuals likely will be denied boarding, and asked to self-quarantine for 10 or 14 days before attempting again to embark a flight, even if these individuals were actually not infected. And on the same plane, it's very possible there will be people with a false negative test, infected with the virus.
While widely used globally, the severe limitations of these tests, which force many non-sick or even non-infected people into isolation or prevent them from travelling, has brought the World Health Organization to issue a position about PCR tests.
The organization notes, in a January 20 2021 information notice, that:
"WHO reminds IVD users that disease prevalence alters the predictive value of test results; as disease prevalence decreases, the risk of false positive increases. This means that the probability that a person who has a positive result (SARS-CoV-2 detected) is truly infected with SARS-CoV-2 decreases as prevalence decreases, irrespective of the claimed specificity." (IVD users stand for In Vitro Diagnostic users)
"Most PCR assays are indicated as an aid for diagnosis, therefore, health care providers must consider any result in combination with timing of sampling, specimen type, assay specifics, clinical observations, patient history, confirmed status of any contacts, and epidemiological information."
In other words, WHO clarifies that PCR tests should primarily be aids for diagnosis. They are not suitable for large scale testing, in relation to contact tracing, as implemented on a massive scale in most countries, and are not even suitable for screening for air travel – even if it's exactly what governmental authorities are now increasingly requesting.
https://www.who.int/news/item/20-01-2021-who-information-notice-for-ivd-users-2020-05
Let's now contrast the Dominican Republic with Canada. Although the spread has now declined, one sees that Canada has been testing way more per confirmed case than the Dominican Republic. So there has been a much larger departure from the WHO guidance regarding testing in Canada than in the DR.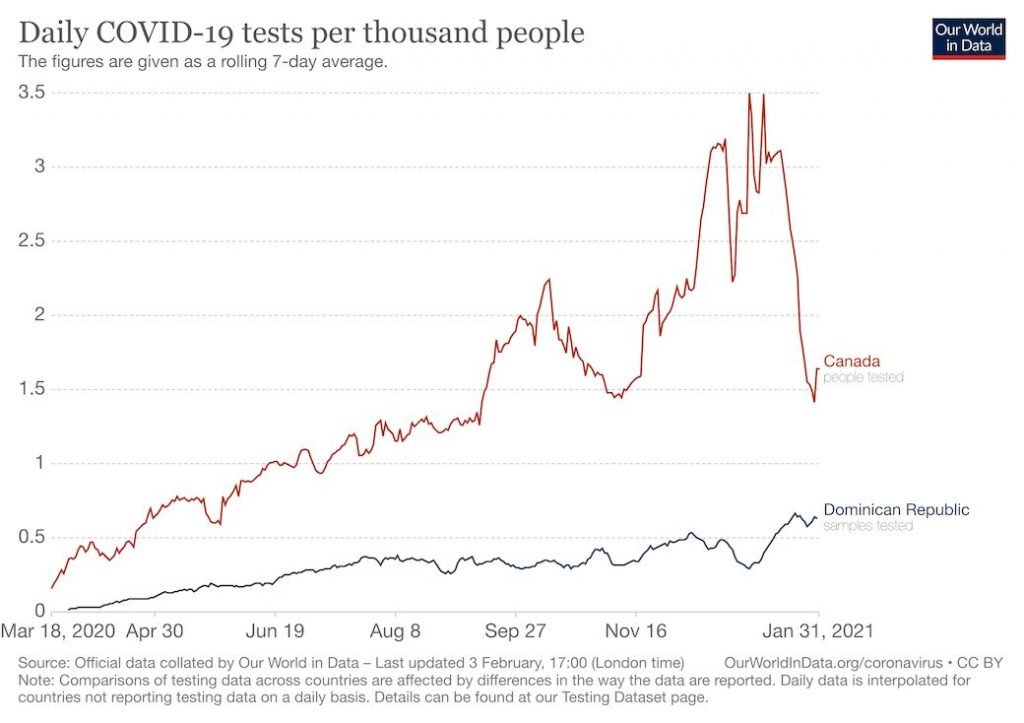 In Canada, like in many countries, testing seems to have become an end in itself, and not a diagnostic aid. With the therapeutic nihilism implemented from coast to coast, by the time people rush to hospital, they are in pretty bad shape. And yes, the test will most likely be positive then.
And let's keep in mind here that, for outpatient treatment, doctors who know how to treat C19 rely on symptoms and don't rely on PCR testing, because the risk of a false negative is high and may lead to deny treatment to someone who is actually sick.
From this brief analysis, it appears that the DR has been much more judicious in terms of its testing policy, avoiding large scale testing using PCR tests – tests that are now recognized even by the WHO as unsuitable for such large scale screening.
IV. Reasonably Open Discussion in the Media
The repression of divergent opinions is highly present in a country like Canada. The mainstream media tends to follow the governmental line and refuses to air any divergent opinion. It's for example impossible to get an article or a letter to the editor, arguing in favour of early outpatient treatment, in any newspaper, magazine or other media.
As we previously analyzed, major Canadian news outlets are part of the obscure and so called "trustworthy news initiative" – an international initiative aimed at coordinating the response of major news outlets around the world to information relating to C19 therapies and vaccines. The repression / censorship of early treatment information on social media is also known to be considerable. Facebook even maintained it would continue its censorship approach following the setback it got from the ruling by its oversight board regarding hydroxychloroquine.
What appears to be the case in the Dominican Republic is that reasonable voices can express themselves in the media, regarding both treatments and vaccines. Regarding treatments, as already discussed, there are voices both in favour and against the use of ivermectin for early treatment. The discussion takes place. The situation is not ideal, and may be confusing, yet medical doctors have the right to prescribe off-label ivermectin-based treatments for COVID-19, and this is done on a very significant scale.
So the contrast with a country like Canada couldn't be starker, as the discussion in the media does not even take place, and medical doctors and pharmacists are prevented, through very strong warnings by medical and pharmacy boards, to prescribe or to dispense the cheap and safe generic drugs required for early outpatient treatments.
Regarding vaccination, while the Dominican Republic seeks to secure vaccines for the population, one can find some measure of caution in the media. An example is the January 25 article titled "Dr. Erasmo Vásquez calls for caution with COVID vaccines in the Dominican Republic; recommends ivermectin."
Dr Erasmo Vasquez is a big name medicine in the Dominican Republic. He is a former Minister of Public Health, a former president of the Dominican Medical College and a former president of the Pan American Health Organization.
Asked about the virus mutations and the implications for vaccines, he is quoted saying:
"I do not think it is easy to answer that question, and there is a lot of uncertainty about that. What we have left is to continue insisting that the country needs a national plan to combat Covid, which comes with combined, varying, and permanent strategies," he argued.
Dr Vasquez insists on the role of ivermectin, in combination with other more conventional measures: "it has been because there is hand washing, masks, social distancing, confinement, and prophylaxis with ivermectin combined, that the morbidity rate lowered."
He adds that "the generality of doctors, health workers, and related professionals are doing prophylaxis with the drug."
He recognizes however that the use of ivermectin remains insufficient in the country:
"A drug that has this impact, it is a drug that we cannot give more lapses, it is necessary to legalize it, spread it, popularize it, nationalize it, I speak without fear, of course, managed by us, the doctors," he said.
This very reasonable discourse, promoting safe effective vaccination in combination with early outpatient ivermectin-based treatment, finds its way in the media, while in many countries, such as Canada, this is just not happening, because of the repression of any form of meaningful debate on how to best fight the pandemic.
Concluding Remarks
This is by no means an in-depth case study of the response of the Dominican Republic to C19. Yet it shows that a country that is much poorer than say Canada and the US, is able so far to handle this crisis better than these two countries.
A major factor is played by early outpatient treatment and ivermectin. Even prophylaxis plays an important role, with pre-exposure prophylaxis for medical professionals at high risk, and post-exposure prophylaxis, for family members of people found to be infected. This is all logical and making lots of sense.
This common sense policy approach is what is missing in countries such as Canada. When such prophylaxis and early treatment are provided on a timely basis, to those truly at risk from the disease, it makes a huge difference. It makes this disease much less dangerous and delivers lower mortality, much fewer hospitalizations and less need for economically and socially devastating lockdown measures.
So there is much to learn for politicians from Canada and elsewhere, from the response of the Dominican Republic to the pandemic.
After Argentina (health care workers prophylaxis), Colombia (nursing homes) and California (excellence in early treatment) a visit to the Dominican Republic is certainly warranted for Messrs Trudeau and Legault. And, fortunately, there are still fights from the US to visit the country.
As for returning to Canada after, it won't be possible for the two politicians to fly directly with a Canadian airline, as those have agreed to stop all travel between the two countries till May (except for "repatriation flights" like if Canadians in the DR would be in any form of danger).
The Dominican Republic wants to reopen its economy and attract tourists. But Canada, which in 2019 brought some 891,000 tourists, mostly during the winter season, has decided otherwise, which will hurt the economy very badly.
Bad policy formulation, as implemented by countries such as Canada, has dramatic consequences, not only domestically but internationally.
As we are now a year into the pandemic, isn't it high time for politicians to reconsider their ill-conceived response?
Our politicians should learn from countries such as the DR, that are handling the crisis more effectively, with much fewer financial means. They should bring in new experts and advisors and take the appropriate corrective action.
It's very late, it's inexcusably very late, but many lives are still at stake, so it's not too late either.
---
See Part 1 & 2 of the series: