The Intertwine of Politics and Medicine for COVID-19 Treatment in Brazil
These are notes relating to a video of a recent TV programme in Brazil about COVID-19 and hydroxychloroquine-based treatments. They were put together by a member of our Facebook Group, whom we warmly thank for this contribution, to let non-Portuguese speaking people understand the video.
This is not deemed to be a precise account or translation of the June 11 programme, but it gives an idea of the situation in Brazil, the hurdles to early treatment, associated with the politicization of hydroxychloroquine, but also some positive experiences with early treatment in some states.
Of course, please refer to the original in Portuguese. You can also check the automatic translation available for subtitles on youtube.
Before getting into the substance, also note that a graph from the covexit.com blog, showing the very low mortality rate at IHU-Marseille, in comparison to Paris, Montreal and New York, is presented in the program. It is from this post.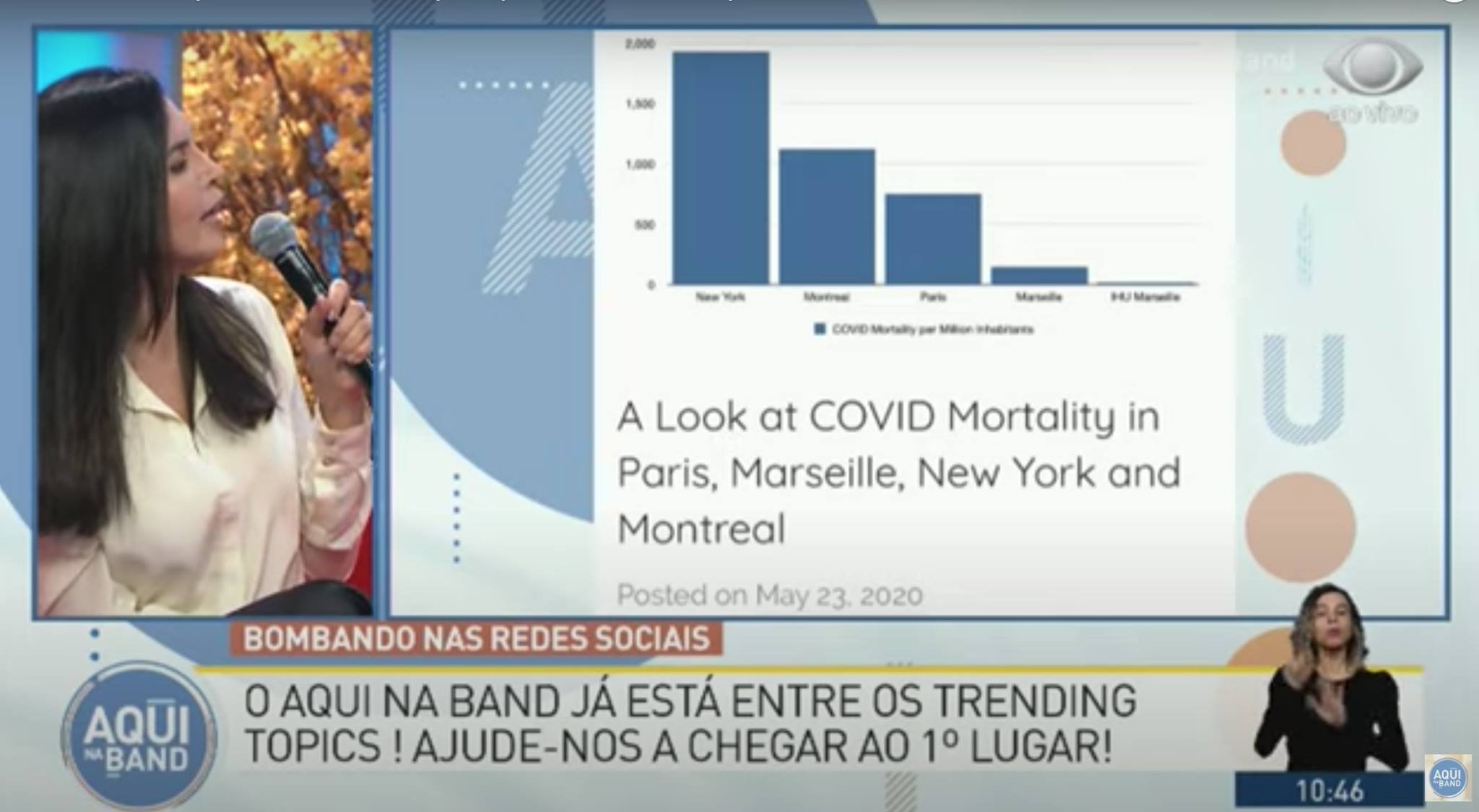 This program is a popular TV show led by a famous journalist called Lacombe (who is known to support some of the actions of the president Bolsonaro, not like a fanatic but rather through logical and rational thoughts).
On stage, 2 physicians, Dr Zanotto, a microbiologist, and Dr. Zeballos, a clinical physician, who are very much involved in the fight against the coronavirus.
From Madrid, a Brazilian physican Marina Bucar working in an hospital in Madrid, Spain. Although Spain did not allow the use of the Pr Raoult protocol, it is allowed trials in hospitals. So this physician participated in a trial with some success using HCQ.
Dr Bucar was then contacted by private medical coverage companies and physicians in Brazil to help fight the pandemic.
With the knowledge acquired during the trials in Spain, she was able to identify just as many other physicians the stages of that disease and see what medicine was more efficient for each stage.
So she did help physicians and private companies (Unimed Belem, in the State of Para for instance) to build treatment protocols and apply immediately. She mentioned that she received threats (people called at her hospital threatening her, made threats on her social media pages) but she refrained from answering and focused on helping the physicians who called for her help.
What the physicians on stage and this physician from Madrid repeated several times is that in order to fight a virus, you need to understand quickly how it works and what stages of the disease the patients are in.
And then you need to use the best of your knowledge and the most indicated known therapeutics to save lives.
The two physicians on stage said that there is a vast literature on the use of HCQ since 2003, with specific acute usage such as microcefalia cases on pregnant women and in rhumatologia.
In Brazil (and as in many countries), this disease has been politicized to the extreme, and what may be found in Brazil is that in the states where the governors do not support the elected president Bolsonaro, the death toll may be much higher than in the states were the governors are in favour of the president.
This would show that the politicization of medicine has consequences, very serious ones.
Note that, just like in the US, Canada and other countries, Brazil is a federal country. It has 26 states, which have lots of leeway for determining their own response strategy to the COVID-19 epidemic.
These medical doctors also mentioned that many are afraid of retaliations, especially in states where the governors are not supporting the president. They compared this situation in some Democrat states in the USA where physicians and pharmacies are constrained and are unable to prescribe and provide the drugs for early treatment.
Note that in terms of new daily infections per capita, Brazil has now the unenviable position of probably having the highest in the world.
The success stories being depicted are mostly coming from individual initiatives and private medical companies, not from state health institutions. For example, the physician from Madrid helped developing a protocol based on oral medication with the help of 250 local doctors.
Unimed Belem used a drive-through strategy to distribute therapeutic kits. It began at the end of April when the health system in Para was in total collapse. In just about 1 month, the situation was brought under control.
They even distributed about 10,000 kits for prophylaxis in Belem and other states (example of the city of Porto Feliz in the state of Sao Paulo, or in Para or Piaui states).
They used not only HCQ but also corticoids, anticoagulants, … whatever was best for each stage of the disease. In some instances, they went to the patients home when there was no bed in the hospitals to treat them.
What those physicians said is that they had no time to run random trials, they reacted to the best of their knowledge to save the lives of their patients. Zeballos did not use HCQ as he was treating patients only in respiratory distress, and used a set of corticoids with success. So each one of them studied this disease, in their respective field of expertise.
The physician from Madrid explained that the sanitary infrastructure in Brazil is very weak and poor, so in order to save people lives, you need to treat as soon as possible to prevent them from going to the hospital.
She also mentioned that "stating that HCQ is killing people with cardiac arrhythmia" is a false statement. In China, back in February, they were not yet using HCQ but 11,6% of the infected had cardiac arrhythmia, so it is false to say that HCQ only caused this effect.
So she explained that her protocols were used in northern states like Piaui, Amapa, Amazonas, Pernambuco but also in Sao Paulo and Rio de Janeiro. It did not take long to see a sharp fall in the mortality rate and to see hospitals emptying.
Those 2 physicians had extensive contacts with physicians from China, Italy and USA. In the USA, they had conversations with infectologists and pneunologists from John Hopkins, who could not implement their treatment ideas because, according to these doctors, of the fear of lawsuits.
In Brazil, Zanotto and Zebalos did not have this fear. On top of that, some of the persons on stage lost parents: Zeballos lost his 86 yr old mother, who was obese, with cardiac problems and other comorbidities due to covid-19 and was not treated, and he could not help at the time.
The female journalist in the program lost her mother as well and could hardly hide her tears when someone on stage mentioned her.
So they had somehow to deal directly with covid-19. Lacombe also said that 2 of his close friends had covid-19 and were treated early by the famous Brazilian immunologist Nise Yamaguchi, and were saved in a matter of a few days with the HCQ treatment.
Note that very interesting research was conducted in Brazil on nursing homes patients with an HCQ / AZI / Zinc tri-therapy. We reported in the below article on first results, showing a reduction in hospitalization time for those treated. Unfortunately, this research has been interrupted, apparently because of political reasons.